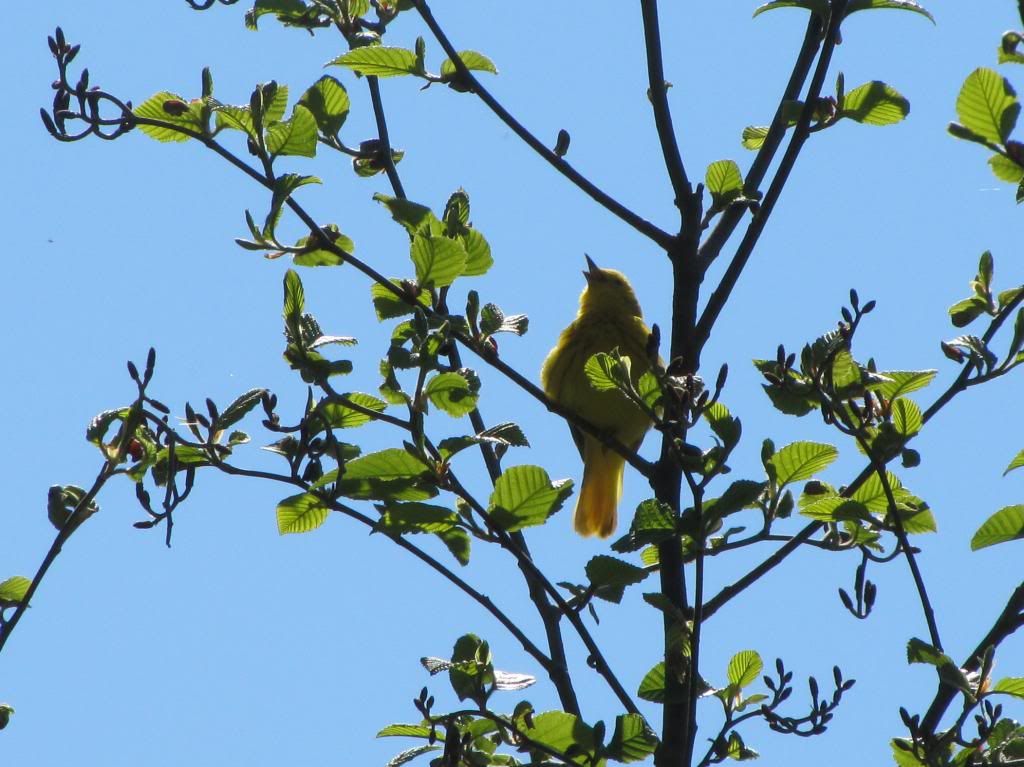 Yellow Warbler, Charles River Peninsula, Needham, MA
Warblers outside my window at 6 am: yellow-rumped, palm, ovenbird (!), black and white, northern parula, magnolia, black-throated green, black-throated blue (!). Hear them below:
Down at the Charles River Peninsula at 8 am I added yellow, Wilson's, American redstart, common yellowthroat.
Ridge Hill at 10 am: I had pine, blackpoll, and chestnut-sided.
A northern waterthrush at Broadmoor in the afternoon brought the total to 16. That's not Mount Auburn, or Hellcat, or Marblehead Neck. That's in Needham/Natick. Without trying very hard...
Other singing arrivals included scarlet tanager, bobolink, winter wren, eastern kingbird, and all the rest of the Baltimore orioles. It was the greatest day ever.
All of this underscored by non-bird singers. At Ridge Hill the gray tree frogs are going nuts. At a distance their songs may be confused with screams. If you happen to be in their midst when they chorus, well hear for yourself...
And cicadas are beginning to set a dramatic tone. (I'm disappointed that the brood 2 is not expected to appear this far north...). I was recording an interesting Baltimore oriole song at Broadmoor when this happened:
Could tomorrow be this good? I look forward to finding out. [UPDATE: Sad trombone...]